Last updated: Release 19.0

Contents
Stats
HP: 5000
DEF: 30
EXP: 0
Location: The Shatters
Immune to Paralyze
Immune to Stun
Immune to Stasis
Combat
Attacks
| Aesthetics | Damage | Condition effects | Speed (tiles/sec) | Range (tiles) | Comments |
| --- | --- | --- | --- | --- | --- |
| | 100 | | 10 | 6 | Piercing |
Behavior
They wander their surroundings and follow nearby players, exploding after flashing for a few seconds.
Reproduction
Spawns From:


The Forgotten Sentinel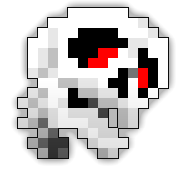 Avatar of the Forgotten King
Drops
None
Tips and Strategies
Although many players disregard them, Blobombs can be extremely lethal in large quantities, especially since their bullets pierce, rendering hiding behind crowds useless. These bombs chase after players; after reaching a certain distance, they explode in a circular pattern. Blobombs shoot forty bullets upon death, resulting in 4,000 damage to a player with no defense or, more realistically, 2,000 damage to a player at fifty defense, granted all shots hit. While heavy armor classes generally can somewhat tank these, other classes should definitely take great caution as the bullets fired upon the Blobomb's death are very closely stacked and there is a significant chance of the player eating a large amounts of bullets. Eating all of the bullets at once is a sure death in most circumstances.
The Blobombs can be baited, as it is possible to run close to the Blobomb, triggering it, then running away while the blobomb explodes a safe distance away. Remember, the Blobomb does not explode immediately after being triggered. Inexperienced players should be cautious, otherwise they will die.