These four pillars spawn around the Avatar of the Forgotten King.
Contents
Stats
HP: 15,000 (+10% [1,500 HP] per player in Realm)
DEF: 70 (140 effective)
EXP: 0
Location: Avatar of the Forgotten King (event)
Stasis Immune
Stun Immune
Combat
Attacks
| Aesthetics | Damage | Condition effects | Speed (tiles/sec) | Range (tiles) | Comments |
| --- | --- | --- | --- | --- | --- |
| | 250 | | 4 | 20 | |
| | 190 | | 5 | 30 | Armor Piercing |
Behavior
They stand at the four corners of the Avatar's event terrain and fire circles of white bullets while aiming armor piercing bullet at the nearest player. Killer Pillars have 2 phases, one attacking phase and one non-attacking phase.
During their attacking phase, Killer Pillars are flashing red and are invulnerable. This phase lasts 4 seconds. Only one Killer Pillar is active at the same time.
During their non-attacking phase, Killar Pillars are flashing blue and have permanently enabled the armored status effect, resulting in 140 DEF. This phase lasts 13 seconds
Reproduction
Spawns From: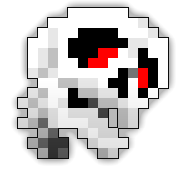 Avatar of the Forgotten King
Drops
None
Tips and Strategies
They can easily kill high-stat characters, but they only shoot when the Avatar goes into a certain phase of health. They cannot be stasised. When they are shooting, NEVER EVER STAND ON THEM or else you will be asking for an INSTANTANEOUS DEATH.
As of Release 27.7.X7, the Killar Pillars are no longer able to be stunned, meaning that the shots cannot be stacked.