The Ivory Wyvern Layout:
Screenshots
Bosses
Elemental Dragons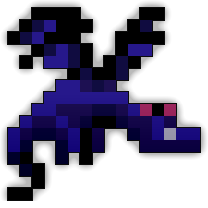 Feargus the Obsidian Dragon (normal mode)
Feargus the Demented (hard mode)
Minions:
Obsidian Soul Shard,

Shade of Feargus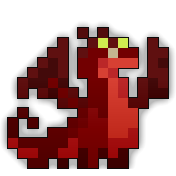 Pyyr the Crimson Dragon (normal mode)
Pyyr the Wicked (hard mode)
Minion:

Crimson Soul Shard


Nikao the Azure Dragon (normal mode)
Nikao the Defiler (hard mode)
Minion:

Azure Soul Shard


Limoz the Veridian Dragon (normal mode)
Limoz the Plague Bearer (hard mode)
Minions:

Veridian Hatchling,

Abundant Shield
Dragons which are fought later will gain some of the previous dragons' abilities. For instance, if the blue dragon is defeated first, and then the red dragon is fought next, the red dragon would now have some of the blue dragon's bullets. If the black dragon is fought first, the dragons will be significantly stronger and by default will have all the shots of the other dragons. However, the portal to the final boss will appear only if the black dragon is the first defeated.
Final Boss


Original Ivory Wyvern (hard mode only)
Minions: Mirror Wyvern, Black Soul of Feargus, Red Soul of Pyyr, Blue Soul of Nikao, Green Soul of Limoz, White Dragon Orb


Drops of Interest
Tips
The four dragons can all be defeated by a priest hitting the dragon with the St. Abraham's Wand. This requires other people, if any, to stand behind the priest as to not aggro/move the dragon out of fire from the St. Abe's range of 10 tiles so that the priest can be constantly hitting the dragon.
Puri/Prot as well as boosts from Paladins or Warriors are recommended, especially for Limoz. It is also to be noted that, in Normal Mode, for each dragon you kill, the next dragon will inherit a trait from the previous dragon. These traits will carry on throughout the dungeon until the Ivory Wyvern.
History

Original design of Lair of Draconis and Ivory Wyvern portals.

During release 11 the Lair of Draconis was accidentally put into production. The key was available for 10 or 20 fame in the nexus, and many players ran it, getting the t14 armors and UT Katana. All existing Draconis keys had been replaced with "Consolation of Draconis" keys, which placed you in a room where you kill a red balloon that dropped a random stat potion. During Release 12.0.0, all existing Consolation of Draconis keys were turned into Old Firecrackers.