The Shades of the Avatar is an enemy that is spawned by the Avatar of the Forgotten King.
Contents
Stats
HP: 10000
DEF: 50 (100 effective)
EXP: 0
Combat
Attacks
Aesthetics

Damage

Condition effects

Speed (tiles/sec)

Range (tiles)

Comments

102-156
(129)

4

20

53-92
(72.5)

5

30

Armor Piercing
Behavior
Shades of the Avatar will not move, making it easy to predict their shots and aim at them. They will attack with the white shots every 2 seconds, and the purple (aimed) shots every 5 seconds. They have permanently enabled the armored status effect, resulting in 100 DEF.
Reproduction
Spawned by: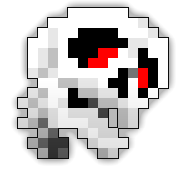 Avatar of the Forgotten King
Drops
Tips and Strategies
Have everyone focus one Shade at a time. Note they can be stunned, so if a knight is there, he can stun them to allow easier damage.