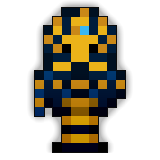 Contents
Stats
HP: 35,000 (+20% [7,000 HP] per player in Dungeon)
DEF: 100
EXP: 0
Location: Tomb of the Ancients
Counts to God Kills
Back to top
Combat
Attacks
Does not attack.
Behavior
Does not move.
Upon being attacked, the Treasure Sarcophagus will spawn Canopic Jars around itself.
Taunt
Those who damage me may find great treasure, [NAME OF CLOSEST PLAYER], but the gods will not forget this insult!
Reproduction
Spawns:
Back to top
Soulbound Drops:
Back to top
Tips
Treat like a test chest. Smash that spacebar or whatever it takes for loot.