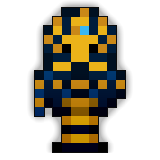 The Treasure Sarcophagus is a mini-boss found in the Tomb of the Ancients, which has to be killed in order to awake the 3 bosses.
Contents
---
Stats
Base HP: 26,250 (
Boss Adaptive HP Scaling)
DEF: 100
EXP: 8,000
Location: Tomb of the Ancients
Counts toward Structure Kills
Counts toward God Kills
---
Combat
Attacks
Does not attack.
Behavior
Does not move.
Upon being attacked, the Treasure Sarcophagus becomes invulnerable for a brief moment and will taunt:
"Those who damage me may find great treasure, [NAME OF CLOSEST PLAYER], but the gods will not forget this insult!"
After which it will start spawning Canopic Jars around itself.
Reproduction
Spawns:





Canopic Jar (Up to 8)
---
Drops
---
Tips and Strategies
Treat like a test chest, use your ability as much as you can.