Last updated: Release 16.0

The Epic Arachna Web Spoke is a minion spawned by Son of Arachna in the boss room of The Crawling Depths.
Contents
Stats
HP: 100,000 (invincible)
DEF: 1,000
EXP: 0
Location: The Crawling Depths
Combat
Attacks
| Aesthetics | Damage | Condition effects | Speed (tiles/sec) | Range (tiles) | Comments |
| --- | --- | --- | --- | --- | --- |
| | 0 | Slowed for 3s | 7 | Varies | |
Behavior
Spawns when the Son of Arachna is awoken. Each spoke sits at a set location and shoots web shots to form a fully-connected web which cannot be entered without being hit by the web shots.
Reproduction
Spawns From: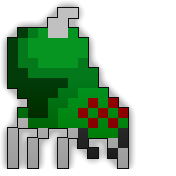 Son of Arachna
Drops
None
Tips and Strategies
These spokes behave exactly the same as the Arachna Elements spawned by Arachna the Spider Queen. They are completely indestructible, and shoot non-damaging webs which simply slow players who move through them.
Take caution when moving through these webs as, even when he's not speedy, Son of Arachna can move faster than players.