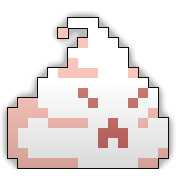 The Spoiled Creampuff is a boss that players can fight in the Candyland Hunting Grounds. It spawns after a certain number of Big Creampuffs have been killed.
The Realm Eye says:
Candyland fairies have tried numerous times to bring various sweets to life for their entertainment, but their edible companions always go stale after a few days.
The Spoiled Creampuff was no exception. As the pastries went sour, so did their attitudes.
Contents
Stats
HP: 9,000 (+20% [1,800 HP] per player in Dungeon)
DEF: 30
EXP: 5,000
Location: Candyland Hunting Grounds
Counts to God Kills
Quest Boss
Back to top
Combat
Attacks
| Aesthetics | Damage | Condition effects | Speed (tiles/sec) | Range (tiles) | Comments |
| --- | --- | --- | --- | --- | --- |
| | 160 | | 8 | 16 | |
| | 100 | | 6 | 6 | |
Behavior
The Spoiled Creampuff will fire wide spreads of Cream Bullets along with an aimed Cream Shot that deals heavy damage. It periodically lunges at the nearest player.
Throughout the fight, it will spawn various Creampuffs at a moderate rate. It can only have 1 Big Creampuff active at any given time.

Reproduction
Spawns:


Big Creampuff


Small Creampuff

Back to top
Drops
Tips and Strategies
While killing the Spoiled Creampuff, it is recommended to kill the big Creampuff first simply for the fact that if you kill the big Creampuff first, it will most likely spawn another Spoiled Creampuff once everyone leaves the boss room. This will allow more time grinding the bosses than grinding the lesser monsters of the Candy Land. If rushing in for the quick kill, beware of the Spoiled Creampuff's shotgun, which can seriously damage a squishy character.
Back to top