The Eye of the Avatar are fast moving enemies spawned from the Avatar of the Forgotten King.
Contents
Stats
HP: 4,500 (+10% [450 HP] per player in Realm)
DEF: 30
EXP: 0
Location: Avatar of the Forgotten King (event)
Combat
Attacks
| Aesthetics | Damage | Condition effects | Speed (tiles/sec) | Range (tiles) | Comments |
| --- | --- | --- | --- | --- | --- |
| | 110 | | 3 | 15 | |
Behavior
The eyes orbit the Avatar of the Forgotten King for their entire life-time, each firing a large white bullet at the nearest player every few seconds, with compensation for their movement.
Their shots lead your movement, firing where you will be rather than where you are.
They respawn in waves of 6 every 10 seconds if the previous wave is not completely killed in time.
Reproduction
Spawns From: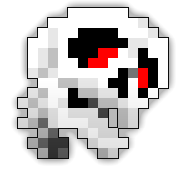 Avatar of the Forgotten King
Drops
None
Tips and Strategies
As usually many people will be targetting the Avatar at once, this is a phase that dies extremely quickly. Still, if your groupe is of lesser importance, it can get difficult to safely net damage on the eyes and kill them quickly enough for them to not respawn. Be careful, as their shots predict movement.